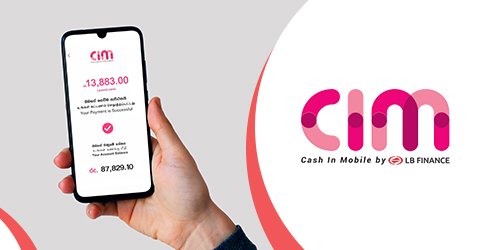 Want all the benefits and none of the hassle? Then our LB CIM Digital Bank Account is what you are looking for! A convenient, all inclusive and futuristic savings account, this facility keeps your transactions simple, smooth and accessible to you from your smartphone anytime, anywhere. With this facility, you can now earn an attractive return of 4% [p.a.] for your CIM balance. Furthermore, the mobility of the money that you would save using CIM would be significantly high.
Your CIM balance can conveniently be used for;
Paying all utility bills/reloads, insurance premium, credit card bills
Making payments at Lanka QR accepted merchants
Paying rentals/interests for LB Lease/Loans, Gold Loans
With our LB CIM facility you have the ability of checking your savings portfolio details from your smartphone, you no longer need ATM withdrawals to make your payments as any payment/fund transfer can be done using your mobile phone anytime, anywhere. Save time by not needing to fill-up forms to open CIM accounts [zero paperwork], and remain in control of your bank account at all times. Cut down on cash usage, and receive instant confirmation for any payment that you make using your savings balance. You will also no longer require passbooks, or commute to bank branches to process your transactions.

If you are an entrepreneur, this facility can also be used as your current account [while earning 4% (p.a.) of interest for the balance]. You will no longer need cheques or cheque books, which will save you money. Simply use your CIM savings account for all your payments and keep track of them. Your e-statement is also available to you in addition to the transaction history. CIM is fully compliant with all security standards set out by the Central Bank of Sri Lanka, and your money is protected by Central Bank's Deposit Insurance Scheme, making this the most safe and secure way for you to perform your transactions with ease and trust.